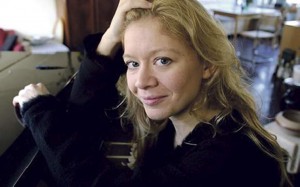 Christina Bjørkøe
The pianist Christina Bjoerkoe began learning piano at the age of five from her mother.
In 1978 she became a pupil of Therese Koppel, who taught her until 1990, then she studied with Seymour Lipkin at the Juilliard School in new York and with Anne Oeland at the Royal Danish academy of music in Copenhagen, where she made her debut as a soloist in 1997.
In 1987 and 1990 Christina Bjørkøe won First Prize in the Steinway Competition. She performed as a soloist with an orchestra for the first time at the age of 16, and has since appeared as a soloist and chamber musician at various venues in Denmark, including the Tivoli Concert Hall major Beethoven, Chopin and Schubert series, as well as in Sweden, Germany, the Czech Republic, France and the USA.
Christina Bjørkøe has been a soloist with most Danish symphony orchestras, with the Czech Chamber Philharmonic orchestra, the Recife Festival orchestra in Brasil, the Malmø Symphony orchestra, Sweden, the Iceland Philharmonic orchestra, and the Danish national Symphony orchestra/DR.
In recent years she has given recitals in countries such as China, Sweden, Poland, the Czech Republic, Croatia, Germany, and South America. She has been awarded several prizes and grants. Christina Bjørkøe is associate professor at the Carl Nielsen Academy of Music Odense. Her recording of Knudaage Riisager piano music received the Danish music award 2005 as Solo Recording of the Year.